Good ole Bernard Montgomery. Planned and led a little operation called "Market Garden" in World war two that was supposed to end the war by Christmas of 45'. It was a total disaster summed up well In the Film " A Bridge Too Far". Now Military History Quarterly has done a feature on the operation in its latest issue. Oh Gods, that I have lived long enough to see Monti' raked over the coals like this. Here is a brief quote

" Years earlier however,responding to Montgomery's self serving claim that Arnhem had been a 90% success, the Prince (of the Netherlands) was more forthright: " My country," he told Cornelius Ryan, "can never agin afford the luxury of another success"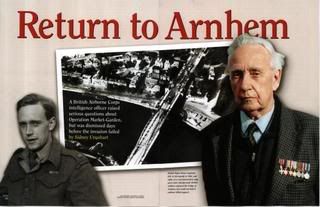 I have scanned the whole article take a look.

Here is another great quote: " if Market Garden had been successful, the Russians wouldnot have the favorable bargaining conditions which they welded at the Yalta conference in feb. 1945, when they secured post-war domination over half of Germany and all of eastern europe. No wonder that years later a German thinking of post war europe and the partition of his country should tell a dutchman that Germany's biggest disaster in the war was to win the battle of Arnhem."